| | |
| --- | --- |
| SPAIN. Epelsa - Mobba issues 2000 | 36 |
Pabellón de España. EXPO 2000 Hannover. 1 de junio | 31 de octubre 2000 /
Spanish pavilion. Expo 2000 Hannover. June 1 | October 31, 2000
| | | |
| --- | --- | --- |
| Date of issue : | | June 2000 |
| Size : | | 47 x 27 mm. |
| Paper : | | Thermal self adhesive - multicoloured |
| Imprint : | | Thermal on black |
| Imprint varieties : | | 6 ( Mobba and Epelsa with 4, 5 and 6 digits ) |
| Design : | | FNMT |
| Printer : | | FNMT. Fábrica Nacional de Moneda y Timbre |
| Printing : | | 50.000.000 of labels |
Spain participated in EXPO 2000 Hannover using the theme Knowledge and Solidarity. These two concepts reflect the pledge the country has made as this new century begins.
Scientific and technological knowledge that contributes to ensure the sustainable development of the resources ; Solidarity in an open society that fosters the initiatives designed to help others, especially those who need help the most. The common goal ; improving the human condition and fomenting natural and cultural diversity.
To reflect the two-fold essence of the theme, knowledge and solidarity, the logo of the Spanish pavilion, and the central design of the ATM issue, represents a bridge between those two worlds, linking the global and the local, the city and the country, the market and Internet, ... Europe and Latin America.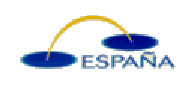 Spanish pavilion EXPO 2000 Hannover - Official Web site. Click over the image
---