| | |
| --- | --- |
| SPAIN. Thermal ATM issues 2OO2 | T64 (72) |
Historic ships (2). THE SCHOONER "SANTA EULALIA" (M.M.B.-C.D.M.)
| | | |
| --- | --- | --- |
| Date of issue : | | May 2002 (1st. known date : 22.05.02, Philat. Serv.) |
| | | 47 x 26 mm. - Format type 3 |
| Paper : | | Thermal self adhesive - multicoloured |
| Imprint : | | Thermal on black |
| Imprint varieties : | | 2+2 (Epelsa with 5 and 4 digits small and large) |
| | | 0,01 € to 99,99 € / Set Phil.S.: 0,20-0,25-0,50 € |
| Design and Printer : | | RCM-FNMT. Real Casa de la Moneda - Fábrica Nacional de Moneda y Timbre |
| Printing : | | 50.000.000 of labels |

Click on the image to enlarge it
Second issue of the ATM set dedicated to the historic ships.

In January 1919, a small schooner with three masts that was named Carmen Flores in honour of the daughter of the ship owner Pascual Flores, was launched on the beach of Torrevieja. The history of this ship is the history of the last period of the Spanish sailing fleet and cabotage along its coasts.

For a decade the Carmen Flores was a pure sailing boat, dedicated to Mediterranean cabotage, though it also made two journeys to the island of Cuba.
In 1928 the ship was given an auxiliary engine, lost a mast and was used as a motorsailer for many years, first as Puerto de Palma (1931) and as of 1936 as Cala San Vicenç.
In 1975, when most of the ships of its class and period had been lost or destroyed, it began to work as an auxiliary ship of a company doing underwater work, now under the name Sayremar Uno. The Maritime Museum of Barcelona bought it by auction in 1997.
First, all types of historical and technical information were gathered, and in 1998 the restoration process began, conserving as much as possible.

The Santa Eulalia, as it has been renamed in honour of the co-patron saint of the city, will be the flagship of the Maritime Museum of Barcelona, but it is also intended that it will be the ambassador of the city and of the country on the world's seas.

The official presentation of the Schooner Santa Eulalia was held at the Salt Route Regatta, which left the port of Barcelona on April 12th, 2001.
The current ATM issue was possible thanks to the collaboration of Museu Marítim de Barcelona (M.M.B.), and its Centre de Documentació Marítima (C.D.M.).

---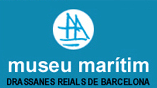 ---