| | |
| --- | --- |
| SPAIN. Thermal ATM issues 2OO2 | T71 (79) |
Postal architecture. Osorno (Palencia)
| | | |
| --- | --- | --- |
| Date of issue : | | October 2002 (7.10.02 - Phil. S. / 17.10.02 - Osorno) |
| | | 47 x 27 mm. - Format type 2 |
| Paper : | | Thermal self adhesive - multicoloured |
| Imprint : | | Thermal on black |
| Imprint varieties : | | 2+2 (Epelsa with 5 and 4 digits small and large) |
| | | 0,01 € to 99,99 € / Set Phil.S.: 0,20-0,25-0,50 € |
| Design and Printer : | | RCM-FNMT. Real Casa de la Moneda - Fábrica Nacional de Moneda y Timbre |
| Printing : | | 50.000.000 of labels |

Click on the image to enlarge it
Fifth issue of the ATM set dedicated to the postal architecture, with some examples of the most interesting post offices in Spain.

The civil building more notable in the small city of Osorno la Mayor, province of Palencia, is the Palacio de los Hierro, today magnificently recovered and adapted as a City Council and ... post office.
Without a doubt a peculiar and interesting example of conservation of the patrimony and rehabilitation for new uses.

The building is in a corner of the Plaza Mayor or Plaza Abilio Calderon and it dates from 17th Century.
The small post office have only one franking balance (nr. 5850).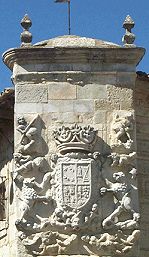 ---
The postal architecture in Spanish philately
---