| | |
| --- | --- |
| SPAIN. Epelsa - Mobba issues 2OO1 | 49 |
Bicentenario del nacimiento de ALEJANDRO MON. 18O1 - 2OO1 /
Bicentennial of the birth of ALEJANDRO MON. 18O1 - 2001
Date of issue :

July 2001 ( 1st know date of use : 16.07.01, Phil. Service )
47 x 27 mm. - Format type 2

Paper :

Thermal self adhesive - multicoloured

Imprint :

Thermal on black
Imprint varieties :
6 ( Mobba (1) and Epelsa 4 (1), 5 (2), 6 (2) digits )

Values / Set :

1 to 999999 PTS / Set values : 30 - 40 - 75 PTS
( Available printing varieties and values in the date of issue )

Design and Printer :

RCM-FNMT. Real Casa de la Moneda - Fábrica Nacional de Moneda y Timbre

Printing :

50.000.000

Click on the image to enlarge it
Alejandro Mon y Menéndez was born in Oviedo on 26 February 1801 and died in the same city on November 1st. 1882. He was Secretary of the Treasure many times between 1837 and 1849.

In politics he was liberal - conservative and acted as a Spanish ambassador in Vatican and France. Secretary, Senator for life, President of some Mercantile and Industrial associations ( M.Z.A. Railways Company among the others ) .... his most important action was the Reformation of the Tributary tax system in Spain, know as "Reforma Tributaria de Mon" ( Mon Tributary Reform ), implanted in 1845 during the Narváez government ( 1844-1846 ) ; this reformation consisted in a eclectic system of direct and indirect tax applied until 1979, and used nowadays in some aspects of current Spain tax system.
He was an outstanding personality in Spanish history and by the Real Decreto 3455/2000, of 22 december, it was created the Organizing National Commission of the commemorative acts of the Bicentennial of the birth of Alejandro Mon y Menéndez.
To design this commemorative ATM label and the logo of the Commission, a detail of the Coat of Arms placed in the Treasury Office in Madrid ( formerly Casa de la Aduana -customs house- ) has been chosen.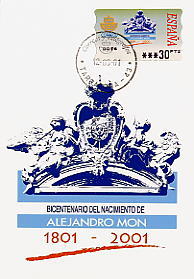 Commemorative maximum card - Bicentenario del nacimiento de Alejandro Mon. 1801 - 2001
As for the other ATM issues in Spain, there is no First Day Covers- FDCs, or commemorative cancellations.


Other philatelic issues ...
One year delayed, in February 27th, 2002, Spanish Post issue also a commemorative stamp.

Edifil 2573/Yvert 2219/Michel 2465
The Spanish philately dedicated in 1980 ( June 9 ) one stamp to the Public treasury during the Borbones period ; on this stamp it appears also the image of the same Coat of Arms placed in the Madrid Customs House.
---