| | |
| --- | --- |
| SPAIN. Epelsa - Mobba issues 2OO1 | 52 |
Coches de época ( 3 ). PEUGEOT BÉBÉ (CASC) /
Vintage cars ( 3 ). PEUGEOT BÉBÉ (CASC)
Date of issue :

October 2001 ( 1st date of use : 1.10.01, Phil. Service )
47 x 26 mm. - Format type 3

Paper :

Thermal self adhesive - multicoloured

Imprint :

Thermal on black
Imprint varieties :
6 ( Mobba (1) and Epelsa 4 (1), 5 (2), 6 (2) digits )

Values / Set :

1 to 999999 PTS / Set values : 30 - 40 - 75 PTS
( Available printing varieties and values in the date of issue )

Design and Printer :

RCM-FNMT. Real Casa de la Moneda - Fábrica Nacional de Moneda y Timbre

Printing :

50.000.000 of labels

Click on the image to enlarge it
Third issue of the ATM set dedicated to the vintage cars.
Founded on 1810 by the brothers Jean-Pierre and Jean-Frédéric PEUGEOT, the French company manufacturing automobiles, bicycles and motorbikes is one of oldest and important of Europe.

Specialized in the manufacture of steel tools and bicycles, in 1888 they constructed its first automobile, a tricycle developed by Serpollet and equipped with steam motor. The following year they constructed one four wheels car equipped with a Daimler motor.
In the following years they manufactured other models : the 3 ( 1891), with grasshopper aspect, were first in being constructed in mass ; the 4, an only vehicle made in 1892 for the King of Tunis ; the 10 ( 1894 ), first break ; the 15 ( 1897 ), impelled by the first motor created by Peugeot ; the 26 ( 1899 ), transformable vehicle and first equipped with windscreen ; the 56 ( 1903 ), the first Peugeot with steering wheel ...

The emergence of the Ford Model T stimulated efforts in Europe to produce popular models for the public at large.
Ettore Bugatti was in charge of the design of this new car and two prototypes were designed ; A cute little two-seater ( Type 19 ) and a longer four seat version ( Type 20 ).
Peugeot manufactured only the short car, but with great success, using their already established BéBé model name. 3095 cars where produced between 1913 and 1916.

Designed to be a practical car for the masses, the Bébé was powered by what was then the smallest engine ever made, consisting of four cylinders displacing 855 cc. and maximum speed of 60 km/h.
There where two versions : The BP1 ( two speed gearbox ) and B3P1 ( three speed gearbox, 1914-1916 ).
The Peugeot Bébé was the European answer to the Model T Ford.
---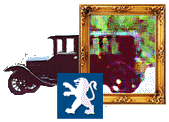 ---
Vintage cars in Spanish philately
---